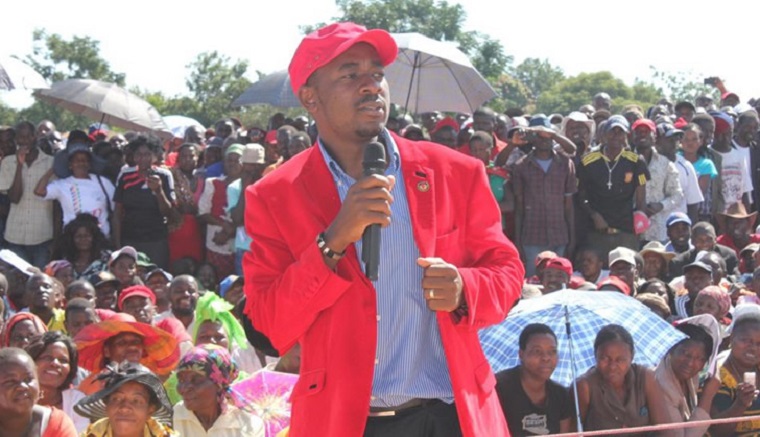 Movement for Democratic Change Alliance leader Nelson Chamisa's spokesman Nkululeko Sibanda says President Emmerson Mnangagwa has sent emissaries to Chamisa to negotiate a "pre-election understanding" but Zimbabwe African National Union-Patriotic Front deputy secretary for Legal Affairs Munyaradzi Paul Mangwana dismissed this as "dreams of little boys".
According to Newsday Sibanda made the claims when he dismissed reports that Chamisa was talking to former First Lady Grace Mugabe to make her vice-president if he wins.
"The thing is Mnangagwa and his junta government wants to use State media to create a narrative that will alienate us from the electorate. They want us to lash out at some people or political groups, but that would be ludicrous for Chamisa or any other politician to do three weeks before an election," Sibanda said.
"We are canvassing for every vote, including Mnangagwa's. Mnangagwa is safer under a Chamisa government than his own. I can tell you now that we have received his emissaries keen to come up with what they are calling a 'pre-election understanding' because they can see the game is up.
"Mnangagwa and his people want to alienate Chamisa from everyone else and then talk to him about their future. Chamisa is busy with campaigns and has no time for negotiating with anyone. But he will welcome every vote".
Responding the claim, Mangwana said: "The youths are allowed to dream, but not on important national issues. This is not child's play, but we are talking of a critical national process. President Mnangagwa has the support of the masses and we do not call for an election to enter into negotiations with people.  We do not have an agenda to negotiate with anyone."
Claims that Chamisa seems to have reached a pact with the Mugabe's were raised on Friday by Grace's own to lieutenants, Sarah Mahoka of the National Patriotic Front which is being backed by Mugabe's top lieutenants Jonathan Moyo and Patrick Zhuwao.
Ashe told the Voice of America's Studio & on Friday: "Bato redu arikuritungamirira izvozvi iyezvino hatina president kuNPF. President wedu isusu ndi Chamisa. Chamisa ndiye achapinda pahupresident, isusu tinotora hudeputy."
The NPF is currently split with one faction being allegedly led by Eunice Sandi-Moyo and the other by Ambrose Mutinhiri who is contesting as president in the party's name.
(242 VIEWS)