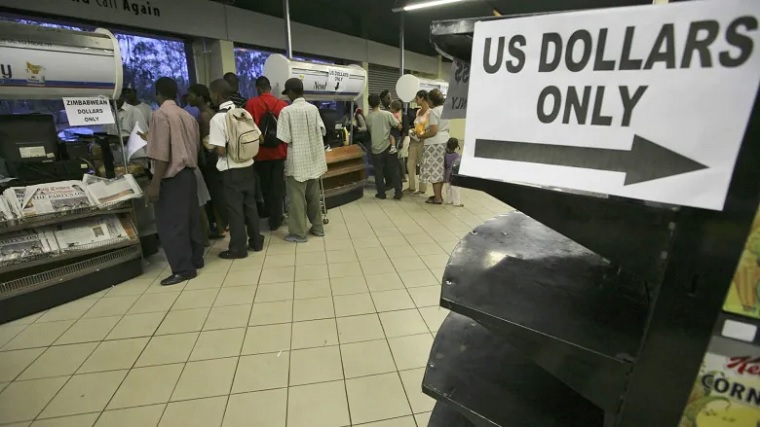 Zimbabwe's annual inflation eased to 229.8% in January from 243.8% in December, latest Zimstat data shows, but more and more people are ditching the volatile Zimbabwe dollar for US dollars.
In January, month-on-month inflation was 1.1% from 2.4% in December and November's 1.8%.
With inflation high, more and more people are using the US dollar in the economy, according to a survey of household spending by Zimstat. 
The survey shows that 76.56% of spending is now in USD, with just 23.44% in Zimbabwe dollars. 
People almost entirely use USD when buying clothes and shoes (97.77%), while USD accounts for 65% of transactions on food and non-alcoholic drinks. 
Transport is 92.51% in USD, while USD is also dominant for rentals and and utilities (76.45%), healthcare (91%) and school fees (95.38%).
In January, Central bank Governor John Mangudya said the USD now commands 60% of transactions in the economy, a ratio that he said he was happy with. 
However, retail companies such as Delta and PPC have reported that over 70% of their sales are now in USD, which backs Zimstat's new survey.
"The Zimbabwe businesses recorded a significant increase in the proportion of foreign currency sales during the quarter to beyond 70%. There was a corresponding increase in the purchases settled in foreign currency, as the economy dollarised," Delta said in its report for the December quarter.
At the official market, the Zimbabwe dollar started January last year at $112 to the USD, and traded at $705 at the start of 2023. 
On the more widely used parallel market, the Zimdollar fell from around $200 to the USD to around $1000 over the same period.
A blended rate of inflation – in which Zimstat includes an average of both Zimdollar and USD prices – measured annual inflation in January at 101.5%.
The food poverty line – which shows the amount of money that an individual needs to afford basic food – was $22 385 in January.- NewZWire
(63 VIEWS)