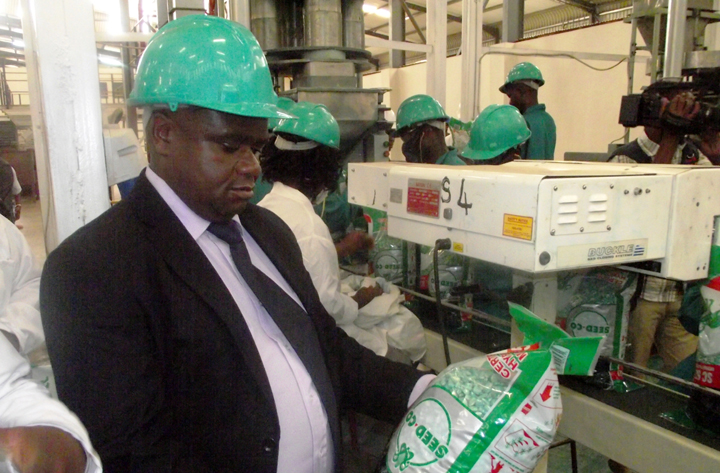 Zimbabwe's largest seed producer SeedCo is seeking shareholder approval to partially unbundle and list its external operations on a regional stock exchange to raise capital for expansion, a day after reporting a net income of $20.7 million for the full-year to March from $14.6 million last year.
"SeedCo Limited hereby advises its shareholders that the Company's Board of Directors has approved, subject to shareholder and regulatory approvals, a proposal to partially unbundle and list the external operations of the Group on a regional stock exchange to raise capital for expansion and to fund growth opportunities," the company said in a statement.
SeedCo has operations in Botswana, Kenya, Malawi, Nigeria, Rwanda, Tanzania, Zambia and Zimbabwe, whose principal activities are producing agricultural seeds.
On Thursday, the group reported its financial results which showed that operating profit increased by 86 percent to $29.1 million from $15.6 million achieved in the prior year despite a 22 percent increase in operating costs.
Revenue increased by 40 percent to $134.6 million from $95.96 million previously.
"Total sales volume up 37 percent on prior year with maize increasing by 42 percent, a very strong performance underpinned by resurgence of Zimbabwe under command agriculture and increased market coverage in Tanzania and Botswana," chief executive, Morgan Nzwere said.
Finance director, John Matorofa told analysts that finance costs were 12 percent higher than same period last year due to discounting of treasury bills (TBs) at rates between 7 percent and 10 percent in Zimbabwe and payment delays by Zambia and Malawi governments resulting in extended loan facilities.
Matorofa said the company disposed of treasury bills amounting to $11 million in the period.
Seedco is owed a total of $16,7 million by the governments of Botswana, Zambia, Malawi,Tanzania and Rwanda, Matorofa said.
Shareholder funds increased by 15 percent to $163.9 million on the back of a 41 percent increase in after tax profit recorded in the period.
The group closed the year with a net cash position of $18 million, relative to net borrowings of $9 million last year on the back of increased profitability and cash sales, as well as the liquidation of treasury bills.
Capital expenditure stood at $6.3 million for the period compared to $5.8 million spent in the previous year.
The company said it has increased its seed production by 20 percent, including winter production in view of the anticipated increased demand in the new season.
The company declared a dividend of 2.92 cents per share and an additional once-off special dividend of 1.46 cents per share due to exceptional performance in the period.
Nzwere said the large dividend was because the company was sitting on excess cash which it cannot easily use to make foreign payments.
Shareholders will have an option to elect either cash or scrip dividend, the company said.-The Source
(39 VIEWS)