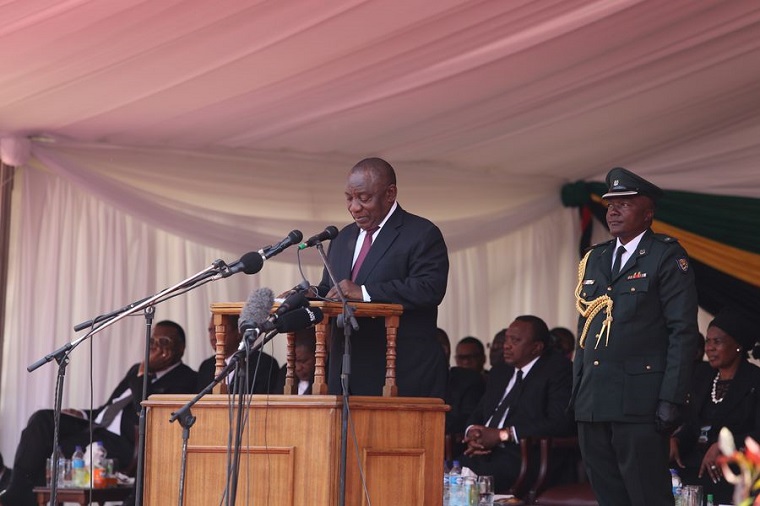 South Africa's President Cyril Ramaphosa was jeered and whistled at during his speech at former President Robert Mugabe's funeral at the National Sports Stadium in Harare before he apologised for recent xenophobic attacks.
At least 12 people have been killed this month in a surge in violence and mob attacks against foreign-owned businesses in and around Johannesburg, South Africa's largest city.
A wave of jeers, boos and whistles interrupted Ramaphosa as he started his eulogy at the state funeral for Mugabe, who died aged 95 last week.
"I stand before you as a fellow African to express my regret and apologise for what has happened in our country," Ramaphosa said after one of the organisers tried to calm the crowd.
South Africa's Minister in the Presidency Jackson Mthembu, in a series of tweets, said the jeering was a serious wake-up call for all South Africans as a nation.
"The attacks on foreign nationals must stop, it's serious reputational damage to our country," he said.
"Many African leaders did not attend the World Economic Forum on Africa due to attacks on foreign nationals.
"The same has now caused serious embarrassment to our President and the country at Mugabe's funeral service. We must stop this or face isolation from the continent.
"We must also not forget that a few countries also pulled out from playing our Bafana Bafana national team because of these attacks on foreign nationals.
"We must take the apology of our President to the continent to heart and stop these attacks."-ANA/OWN
(137 VIEWS)