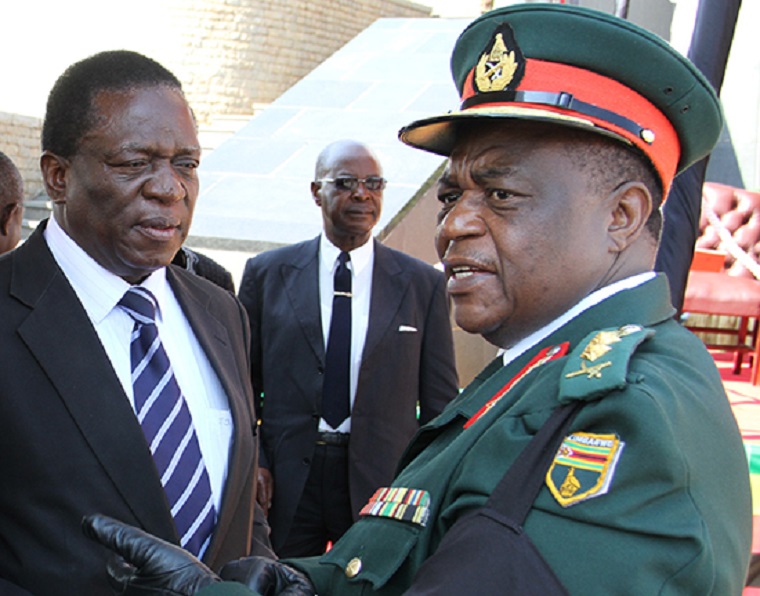 Trying to understand new President Emmerson Mnangagwa's relationship with the military is getting harder. It was General Constantino Chiwenga, Commander of the Zimbabwe Defence Forces, who launched the military operation that forced out President Robert Mugabe and propelled Mnangagwa to power.
So, is Chiwenga working for Mnangagwa or is it the other way around? In the latest twist on 18 December, Gen Chiwenga and Augustine Chihuri, Commissioner-General of Zimbabwe Republic Police, retired. The curt government announcement said they would be redeployed. For Chihuri, an ally of Mugabe's who had sent police to arrest Chiwenga to forestall the military action, this looks like the end of the road. But for Chiwenga, it could mean another promotion… to the Vice-Presidency.
Lieutenant General Phillip Valerio Sibanda takes over as ZDF Commander. He used the occasion of Chiwenga's retirement to announce that the army, which had taken over security duties from the police in most big towns during the military's removal of Mugabe, was returning to barracks.
So, does all that make Mnangagwa the boss? Not according to a witty tweet from Zimbabweans United for Democracy: 'A President appointed by a General who chased away the President who appointed him as a General is not a General who can be ordered around by a President he appointed… well not generally anyway'.
The wheels are turning and Mnangagwa is using his reshuffle this week to move more officers up the hierarchy while a few of them go directly into politics. It may be an expensive effort to buy off the military or another way of integrating the military into civilian life.
The appointment of Air Marshal Perence Shiri as Agriculture Minister and Major General Sibusiso Moyo as Foreign and International Trade Minister hands two top economic portfolios to the military. Both Shiri and Moyo are being retired and given one last promotion, as well as a boost to their pensions.
That allows a couple more senior officers to move up the ladder. Air Vice-Marshal Elson Moyo becomes head of the air force. Major General Edzai Chimonyo, ambassador to Tanzania, is promoted to Commander of the Zimbabwe National Army, taking Gen Sibanda's old job. In addition, Mnangagwa appointed three generals to serve on of the Politburo of the ruling Zimbabwe African National Union-Patriotic Front.
By comparison, the decision of last week's ZANU-PF congress to confirm Mnangagwa as the party's candidate for the presidential elections due next year was almost a sideshow. Again, the party congress showed that Mnangagwa, a former intelligence chief and former defence minister, is doubling down on the security service's role in government. The question that opposition and civic activists are asking is what will happen to Mnangagwa's promise of a 'new democratic era'.- Africa Confidential
(810 VIEWS)