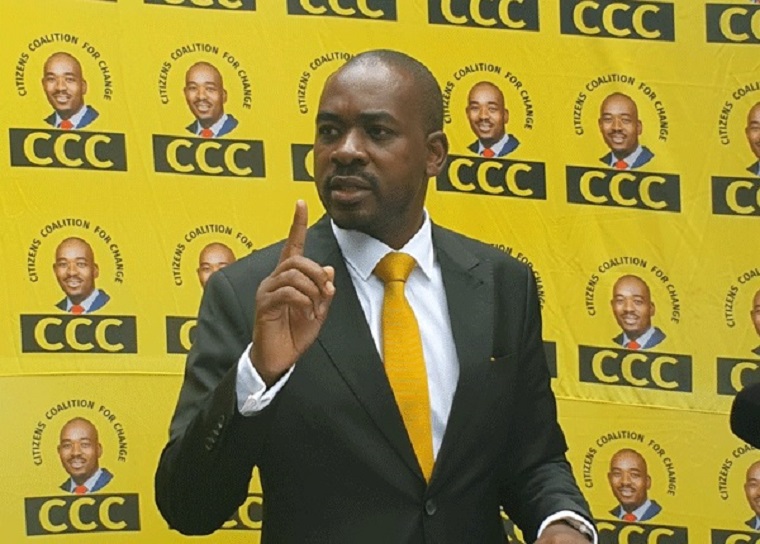 Citizens Coalition for Change leader Nelson Chamisa who says he has mobilised the region to call for fresh elections in Zimbabwe says one of the methods to force these elections is to mobilise at least three million registered voters to sign a petition calling for the elections.
Chamisa lost to Zimbabwe African National Union-Patriotic Front leader Emmerson Mnangagwa last month but he has rejected the results saying he was robbed.
He told supporters in Mashonaland Central where ZANU-PF won all the parliamentary seats that CCC has the support of three-quarters of the Zimbabwean population. He won the elections by two-thirds with ZANU-PF winning 30%. The remainder went to the smaller parties.
Official results show that Chamisa won 44% of the vote in the presidential elections while his party won 42% of the vote in the parliamentary elections.
Some of Chamisa's critics say he lost the elections and should move forward because the elections are a done deal and there is no way Zimbabwe will hold fresh elections.
They have queried why Chamisa wants fresh elections if he really won because if he did he should just take over.
Chamisa refused to take his case to court claiming that the judiciary is captured.
Chamisa won nearly two million votes in the just ended elections with Mnangagwa getting 2.4 million.
It is not clear how he will get one more million votes if he decides to get signatures of at least three million voters.
Zimbabwe has 6.6 million registered voters.
Key leaders of the Southern African Development Community such as South African President Cyril Ramaphosa and SADC chair Joao Lourenco have already congratulated Mnangagwa on winning the elections.
The only SADC leader who appears to be backing Chamisa is Zambian President Hakainde Hichilema.
(484 VIEWS)